Keene Valley New York .com is the premier online guide to Keene Valley and the High Peaks in Upstate New York showcasing hundreds of exciting attractions throughout the Olympic region and the Adirondacks.
The hamlets of Keene and Keene Valley are known as the "Home to the High Peaks" boasting the greatest number of peaks in a single location. These mountains rise majestically in the Keene Valley Region making this area a meca for hikers, climbers and other visitors who wish to experience the breathtaking beauty of the Adirondack mountains. There are literally hundreds of trails located in the tiny hamlet of Keene including the trail to the summit of Mt. Marcy, the highest mountain in New York State.
**UPDATE ON Tropical Storm Irene**
Keene and Keene Valley is OPEN!!
Keene, NY, "Home of the High Peaks" is open. The hamlets of Keene, Keene Valley and St Huberts were hit very hard by Tropical Storm Irene. All town roads were closed, 5 bridges were washed out and many homes and businesses were flooded. Thanks to a huge volunteer effort under way much has been cleaned up and most roads are open as well as all local B&Bs, restaurants, stores and art galleries.
The High Peaks trailheads to Cascade, Rooster Comb and the Garden (Marcy, Gothics, etc) are open as is Giant from 9N. The Dix Range will open with Rte 73 (est Sept 16). The leaves are just starting to turn so it is a great time to visit.
The Impact of Irene. Keene received over 10 inches of rain, which flooded the entire valley floor from the middle of Keene Valley to the bottom of Spruce hill and turned the main streets (Rte 73) in Keene Valley and Keene into a river.
Paul Smiths professor Kurt Stager provides an excellent visual tour of the damage on his bog site:
http://savethecarbon.blogspot.com/2011/08/irene-devastates-ausable-valley.html?adktrailhead

The rain caused 22 new slides in the region, which will make for exciting new options for ice climbers and back country skiers this winter. Meanwhile hiking trails are being opened daily, check the DEC web site for the latest listings: http://www.dec.ny.gov/outdoor/9198.html

While much cleanup has been done, this second major flood within 4 months has come at great cost to many local families, businesses and farms. Federal support will only cover a fraction of the costs. A local fund has been established to help people get back on their feet. Learn more about it and the variety of ways you can help at: www.keenefloodrecoveryfund.org


The History of Keene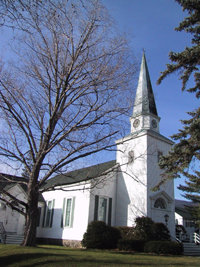 Keene received its charter on March 19, 1808. It consists of the hamlets of Keene, Keene Valley and St. Huberts. It was formed from portions of Elizabethtown and Jay and until 1848 included all of the land now lying in North Elba, which is now home to Lake Placid, host to two winter Olympic Games. After the Civil War, a young landscape artist by the name of Perkins settled in the area for two years. His beautiful paintings inspired his colleagues to travel to the Adirondacks to see what he had seen. As this local population of artists expanded, the Keene Valley Region became a popular retreat for writers and artists. Today, Keene is home to many respected authors and artists who find inspiration in the natural beauty of the High Peaks.



Topographical Maps of the Adirondack Mountains
High Peaks Region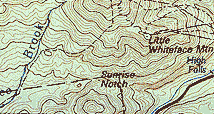 click here
Select Adirondack Hikes and Trail Descriptions

The Algonquin tour
An introduction the many landscapes of mountains, brooks and lakes of the Adirondack. The best way to discover the second highest summit of the Adirondack with a trip to some remote areas. The whole hike is a loop of 19 km. This may look very long but its all downhill after the summit of Algonquin. All the beautiful nature scenes make this one a must to do for a hiker with an average experience.


Have you ever thought about publishing your very own book about Keene Valley?

You Have The Talent, We Have The Resources!
Book Publishers.com



Are you an author looking to publish your masterpiece? BookPublishers.com could connect talented writers like you with willing book publishers. For many talented authors, the most difficult obstacle isn't writer's block—it's finding a receptive publisher to publish their books. Because publishers have to sift through so many works, they may dismiss some unfairly, or be so short-staffed that they don't have the time to give each manuscript its fair consideration.
Book Publishers.com
click here
For those who decide that finding a publisher isn't the right choice for them, self-publishing can be a great alternative. With self-publishing a writer can maintain editorial control, as well as keep all proceeds from the book sales. Whatever your preference, BookPublishers.com wants to help you on your journey to become a published author! You have the talent, we have the resources.
click here for more information
Mount Marcy:
This is the highest mountain in the Adirondack with 5344 feet. Marcy is located in the middle of the High Peaks Region. This mountain must be seen from a very close location to be able to admire its beauty. Three of the major accesses to the Adirondack region make possible a day hike to it. The shortest approach start at Heart Lake and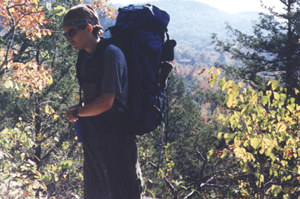 follows in and out the Van Hoevenberg Trail. This is a 23,75 km hike that takes an average of 7˝ hours. The easiest way to shorten this distance is to camp at Marcy Dam. This will cut 7,3 km to the distance. Marcy Dam is a rustic camping area. It takes an hour of walk to get there from Heart Lake.

Gothics
Gothics, the 10th highest peak, has an impressive 360° view. This proposed hike is less popular than the one starting from The Garden, but it has a lot of things to see as: many viewpoints of the Gothics Arch, an impressive ascent to the Pyramid summit on your way down and a passage near two of the highest waterfalls in the Adirondack. The whole hike is a loop of 21 km. The only drawback is the long and doll Lake Road you will walk on your way in and out.

Colden
Colden is located between Marcy and Algonquin. It offers a 360° summit view and a long open ridge. This trip is an other way to visit the great area of Avalanche Pass. The whole hike is a loop of 21 km.


Phelps
A small summit from the list of those over 4,000 feet but its half open summit has one of the best views in the Adirondack. Over 10 km of the trail is on flat or low grade ground. The whole hike is 14 km long.

Noonmark
An open summit that is just under the 4,000 feet level, very similar to Cascade. It has a better viewpoint toward many of the highest peaks than Cascade. If you're looking for a longer trail, it's possible to make a loop and even add Round Mountain on your way. The shortest hike has a total of 6.6 km.

The Brothers
This is not a true summit, but a group of three great viewpoints toward the Great Range. The shortest hike to the second Brother (the best one) has a total of 5,7 km.

Bald Peak
A bare rock summit part of a long ridge with many interesting viewpoints. The whole hike is 12.4 km long.

Dix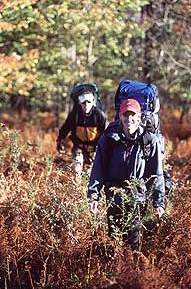 Dix is one of the most Southward 4,000 feet summit of the Adirondack High Peaks Region. Starting from the parking lot on Rte 73, this hike follows a brook for almost 3 km but has a last section toward the summit of Dix that is one of the steepest of the Adirondack. The whole hike is 22 km long.

Colvin/Indian Head
This summit is less visited than the other highest peaks, but has many interesting things to offer. Part of the trail is along Gill Brook with its many water cascades. The trail section after the junction to the Dix summit is very steep by place and passes over many small summits along a tree covered ridge. On your way down, don't miss Indian Head and Fish Hawk Cliffs. They are two great viewpoints on the lakes and mountains.

Saddleback Mountain
Saddleback Mt. is named for its two peaks with a small valley. It is located between Gothics and Basin Mt. in the Great Range. The East side trail of Saddleback offers great views of the Gothics. The West side trail traverses a very steep rock cliff unique in its style in the Adirondacks. This rock cliff is very steep and ropes may be needed for safe passage.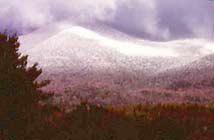 Giant Mountain:
This is one of the most popular summit of the Adirondacks. The two main trails are at 1 km (Roaring Brook Trail) and at 3 km (Ridge Trail) South from St-Hubert. The Ridge Trail is the most spectacular one with from the middle of its height a long bare rock section with many viewpoints toward the West over the Dix Range, The Great Range, Mt. Marcy, Algonquin Peak and up to Cascade Mt.. This trail difficulty is similar to the one of Algonquin Peak from Heart Lake. They have similar length and high. The beginning of the Ridge Trail is very steep whereas the one of Algonquin Peak is very progressive. The second most popular approach is the Roaring Brook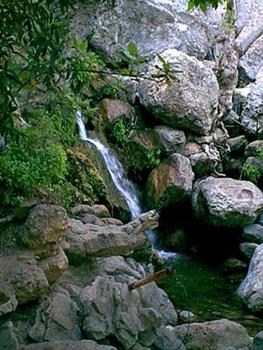 Trail that passes a side trail leading to a waterfall (Roaring Brook Falls) then follows a ridge with some viewpoints to the summit. It is possible to make a long loop using those two trails.

Mount Skylight:
This mountain peak is one of the most remote of the high peaks and is located just South of Mt. Marcy. It has a very distinctive round shape and it's summit is almost flat and as big as a football field. The South approach from Upper Works is the easiest one to get there in one day.

Cascade Mountain:
One of the most popular summits of the Adirondacks with Algonquin Peak and Giant Mt.. It's the easiest hike among the 4,000 feet summit. Cascade Mt. has a 360 degree view from its large rocky top. There is a magnificent view to the North of the entire Lake Placid Valley. The entire hike is in a wooden trail except for the last ˝ km, which is on bare rock. This summit stands apart from the other High Peaks, so there is no view over those highest summits that are Mt. Marcy, Mt. Colden or Algonquin Peak.


Blake Peak
This summit is part of the Pinnacle Ridge just after Mt. Colvin in the Upper Ausable Lake region. This is a tree-covered summit with a viewpoint between the trees to the South at Elk Lake. Even if the trail that leads there from Mt. Colvin is a marked trail, it looks more like a herd path than like a regular maintained trail. They are many very steep sections that might be easier to pass with help of a ladder or a rope.

Algonquin Peak
This is the second highest mountain in the Adirondack at 5114 feet. It's also one of the three most popular ones with Cascade Mt. and Giant Mt.. It takes less than three hours to hike up and less than 2,5 hours to hike down for a 13 km over all distance from Heart Lake.


The 46 High Peaks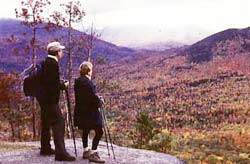 Airondack Hikers
Photo courtesy of Jim Grant
The High Peaks Region is famous for its magnificant 46 peaks including Mt. Marcy, the highest peak in New york State, with an elevation of 5344' .The 46 peaks include the following mountains (listed in order of height):
Mt. Marcy, Algonquin Peak, Mt. Haystack, Mt. Skylight, Whiteface Mtn,Dix Mtn. , Gray Peak, Iroquois Peak , Basin Mtn., Gothics, Mt. Colden, Giant Mtn., Nippletop, Santanoni Peak, Mt. Redfield, Wright Peak, Saddleback Mtn., Panther Peak, Tabletop Mtn., Rocky Peak Ridge, Macomb Mtn., Armstrong Mtn. ,Hough Peak, Seward Mtn., Mt. Marshall, Allen Mtn., Big Slide Mtn., Esther Mtn. , Upper Wolfjaw, Lower Wolfjaw , Street Mtn., Phelps Mtn., Mt. Donaldson, Seymour Mtn., Sawteeth, Cascade Mtn., South Dix, Porter Mtn., Mt. Colvin, Mt. Emmons, Dial Mtn., East Dix, Blake, Cliff Mtn., Nye Mtn., and Couchsachraga Peak.


Valuable Hiking Links

HikingClothes.org
Up to 70% off! Find clothes that are sun-protective, zip-off pants, wrinkle-resistant, quick-dry & lightweight.
click here

HikingShoes.biz
Shop a full line of rugged, field-tested hiking footwear, from day hiking shoes to backpacking boots. Find Gore-Tex hikers & leather hiking boots
click here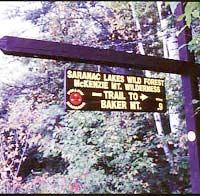 Adirondack Trail Guide
and Hiking Resource Center



Adirondack Culinary Arts
The Adirondacks & the Lake Champlain Valley of Upstate New York & Vermont have long been known for their truly unique & varied cuisine ranging from fresh caught native brook trout cooked over an open campfire to world class dining at five star resorts. In the internationally acclaimed Olympic Village of Lake Placid, diners can choose from exciting restaurants with menus featuring everything from sushi and health foods to hearty Adirondack homecooked meals. The Culinary Arts program at Paul Smith's College in the Adirondacks was founded on the principle of learning by doing. Many of todays local chefs learned their trade at Paul Smith's.



Adirondack Log homes and Adirondack Log Furniture
Here you will find a wealth of information about Adirondack log cabin homes, log home floor plans, financing for log homes, construction tips on log homes, Adirondack custom log homes, log home photographs, and much, much more!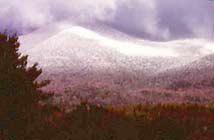 Photo courtesy of Jim Grant

Current Adirondack weather and mountain forecasts for hikers and climbers
click here
Emergency Regulations Adopted For High Peaks Wilderness Area
New York State DEC
click here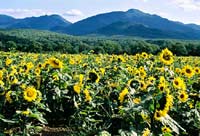 We invite you to visit our gallery of Adirondack High Peaks photos by
outdoor photographers Carl Heilman and Frank Houck.


The Olympic Village of Lake Placid
Nestled in the High Peaks
The High Peaks Region is home to the Olympic Village of Lake Placid hosting the 1932 and 1980 Winter Olympics. Lake Placid has also been host for a variety of world class events including the ESPN Outdoor Games, World Cup bobsled and luge, the Ironman Triathalon, international figure skating, Empire State Games and the "I Love NY" Horse Shows. The Lake Placid / High Peaks Region offers visitors a rich variety of historic, artistic and cultural attractions.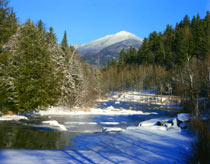 "West Branch Ausable River" by photographer Frank Houck
Lake Placid's Olympic attractions include famous Whiteface Mountain, boasting the greatest vertical drop in the East and the Mackenzie Intervale Olympic Ski Jumping Complex, where you can ride to the top of the 26 story, 120 meter ski jump in a glass enclosed elevator! Other venues include the Mt. Van Hoevenberg bobsled and luge track where you can take an exhilarating ride down the only dedicated bobsled run in the US.


KeeneValleyNY.com gives you everything you need to know to plan your mountain adventure online when visiting Upstate New York and the Adirondacks. It's all right here at your fingertips . . . with just a click of your mouse!


ONLINE VISITOR & RELOCATION GUIDE
Click here to get valuable resources and tools to help you relocate, buy a home, find a great loan & much more!
Keene Valley New York .com
Phone: 518-891-3745
Fax: 518-891-3768
E-Mail: RobGrant@northnet.org

"Turn your old vehicle or boat into a valuable tax deduction and help your favorite charity. All with just one click!"
Donate Your Used Vehicle to Charity!
Donate your used car, boat, motorcycle, van or RV to your favorite charity & receive full fair market value as a tax deduction!
Click here to learn more and search for your favorite charity!
Free nationwide pickup and no complicated paperwork.
It's fast and easy. All vehicles accepted.
Search and choose from hundreds of religious institutions, schools, and charitable organizations including cancer research, multiple sclerosis and heart disease.